Las Vegas gunman Stephen Paddock purchased and stockpiled 43 guns before killing at least 58 people and wounding more than 500 when he opened fire on a crowd from the 32nd floor of a Las Vegas hotel Sunday night.
The police reportedly found 23 firearms in his hotel suite, the majority of which were rifles. And when they searched his home, they discovered an additional 19 firearms, some explosives, several thousand rounds of ammo.
Additional reports state that at least two of the rifles were mounted on tripods with scopes, and had been modified with a legal "bump stock" style device that allows a high rate of fire without actually converting it to a fully automatic weapon.
The devices are legal in the U.S. In fact, it appears that everything Paddock had purchased to carryout his massacre was legal.
And that is the problem.
The Los Angeles Times tracked down Paddock's gun purchases:
"Paddock had four Daniel Defense DDM4 rifles, three FN-15s and other rifles made by Sig Sauer.
Paddock apparently bought the guns legally, passing the required background checks.
At least six of the guns were purchased at one store, a Cabela's in Verdi, Nev. A manager at the store declined to comment.
Several other weapons were purchased at Discount Firearms and Ammo, a few blocks from the strip in Las Vegas, the source said. "It's an open investigation," said a store employee, before hanging up.
Paddock, who lived in Mesquite, Nev., also bought some weapons at a store there, Guns and Guitars, according to a statement given by the store owner…"
In a country with nearly 300 million guns in circulation, Nevada is one of the easiest states to legally purchase firearms. Not coincidentally, Nevada also has a high gun homicide rate — 14.9 gun homicides per 100,000 people in 2015, compared to a national rate of 11.1. Additionally, purchasers don't need to register their weapons with the state and owners don't need to be licensed.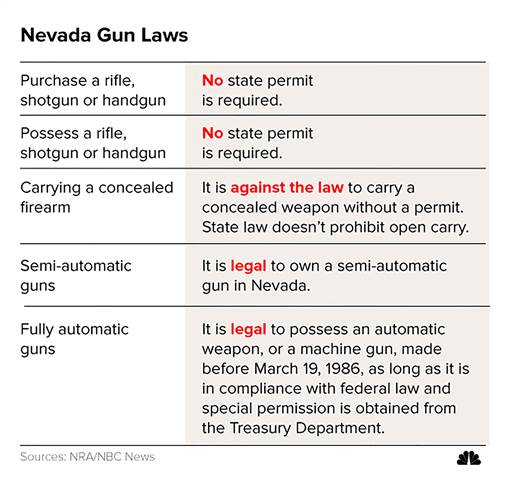 On Tuesday, President Trump alluded to possible changes to federal gun laws.
"We'll be talking about gun laws as time goes by."
There is no word yet on when those "talks" will take place.