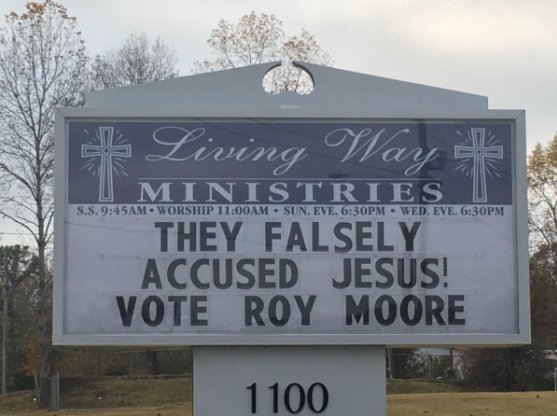 A sign in front of an Alabama church has fueled public outrage for its message comparing Roy Moore to Jesus and encouraging people to vote for Moore. "They falsely accused Jesus. Vote Roy Moore," reads the sign belonging to the Living Way Ministries Church in Opelika, Alabama.
Pictures of the message have been making the rounds on the internet, with people across the country voicing disgust:
If there is only one image that captures how misguided, dysfunctional, corrupt & inbred the Evangelical Christian Right in America has become… it is this.

A pedophile is better than a Democrat… What Would Jesus Do?#RoyMoore#NoMoore https://t.co/D29izl0XYb

— Billy Baldwin (@BillyBaldwin) November 30, 2017
There really is a #WarOnChristianity.  It's bein' waged by folks comparin' pedophiles to Jesus.  #RoyMoore pic.twitter.com/XavJVKfziN

— Tea Pain (@TeaPainUSA) December 4, 2017
My favorite Bible story is definitely the one about Jesus terrorizing teen girls at the mall pic.twitter.com/bwXEhrK6dn

— Lauren Duca (@laurenduca) November 30, 2017
Churches qualify for 501(c)(3) tax-exempt status, and federal law stipulates that such organizations are not allowed to campaign for politicians. This church sign appears to be a direct violation of that law.
There was a recent effort by congressional Republicans to reverse the law, known as the Johnson Amendment, and to begin giving church communities license to endorse political candidates. The Johnson Amendment repeal was included in the House version of the recent tax bill, but it was later removed under the Senate version of the bill which passed early Saturday morning.
Despite efforts to undermine the separation of church and state, it remains in place for now.
The Alabama church received multiple complaints and took the message down after two days. 
For more on the story, here's a video from local Alabama station WGNO: